FAA REQUIRED Decals & Placards
This web page was created for the "NEW" builder to help identify what decals, placards and instrument markings will be required on your plane by the FAA or DAR inspector at the time of Airworthiness inspection. The following information should help make this inspection go a lot smoother and are "ALL FAA REQUIRED" items.
EXPERIMENTAL AMATEUR BUILT AIRCRAFT
FAA Required Name Plate
PLACEMENT LOCATION: Attaches nicely to that metal fabric former plate at the area where the longerons come together near the elevator bellcrank. This on the left side and the state registration decal on the other side.
EXPERIMENTAL Decal - 2" Letters
FAA REQUIRED
PLACEMENT LOCATION:
At each entrance to cockpit or plainly visible from both entrances.
Compass Deviation Card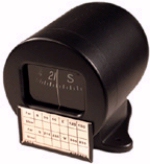 PLACEMENT LOCATION:
A Magnetic Compass correction card mounted in the vicinity of the compass.This is required as other instruments and/or electrical wiring or airframe metal "may" throw the compass reading off by a small amount. This deviation is required to be displayed near the compass.
PASSENGER NOTICE Placard
PLACEMENT LOCATION: Afixed to the rear of the front seat in full view of the passenger.
"PASSENGER NOTICE - THIS AIRCRAFT IS AMATEUR-BUILT AND DOES NOT COMPLY WITH FEDERAL SAFETY REGULATIONS FOR STANDARD AIRCRAFT".
Instrument Limit Markings
Markings per QC Manual



PLACEMENT LOCATION: Instruments with max limits marked in red.
For a Challenger I/II Long Wing, the manual states, red line is at 90 mph, yellow starts at 70 mph for the ASI gauge.
For a Challenger I/II Clip Wing, the manual states, red line is at 110 mph, yellow starts at 80 mph for the ASI gauge.

For more information on this, view the Challenger Owners Manual, Page 10.
If you mark your ASI instrument as per the Challenger manual, the FAA or DAR inspector shouldn't dispute these markings.
---
FAA REQUIRED Paperwork
Kept In Plane At All Times
Paperwork Required
Airworthiness Certificate - (must be displayed)
Registration Certificate
Operating Limitations
Weight & Balance Data sheet completed and signed.
These items are to be in a packet in the aircraft in this order with the Airworthiness Inspection Certificate visible.

In our Experimental Class, the "Operating Limitations" are usually complied with by various placards and instrument markings such as VNE, Flap Range, Maneuvering Range, Caution Range, Max Gross Weight, Solo From Front Seat Only and such things.
---
FAA Advisory Circular AC20-27F
For more information on this subject, see FAA Advisory Circular "AC20-27F.pdf". Adobe Acrobat Reader will be needed to view this document.